Archives by date
You are browsing the site archives by date.
Title: Directed Studies Student Pronouns: She/They About: Orli Hellerstein is a 3rd year undergraduate in the honors psychology program at UBC. As a directed studies student in the SWELL lab, she works on the ADHD and sex study, and is particularly interested in the impact of ADHD medication on sexual behavior. Outside of the SWELL […]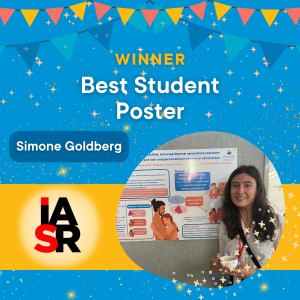 🏆 MA student Simone Goldberg won Best Student Poster for her poster, "Cross-sectional, longitudinal, and experimental associations between genital self-image and own and perceived partner sexual satisfaction," presenting on data exploring links between genital self-image and individuals' sexual satisfaction and their perceptions of their partners' sexual satisfaction. 🌟 Congratulations Simone, we are so proud!
We have six incredible lab members who presented this year, on topics including: 🍆 Genital self-image💭 Memory of one's first time🤔 Mind-wandering and sex💑 Perinatal sexuality💦 Pleasure👩‍🏫 Sex education📱 Technology-facilitated sexual violence Swipe through to see all the amazing presentations from our lab members 💫
💬 Check out our article "What to expect when you're expecting: How will your sex life change during pregnancy and postpartum?". https://theconversation.com/what-to-expect-when-youre-expecting-how-will-your-sex-life-change-during-pregnancy-and-postpartum-208553 👩🏽‍⚕️ In this article, written for a lay audience, we discuss changes to couples' sexual well-being across the transition to parenthood, summarize some recent research on this topic from our team, @cashlab, and others, […]
🌟 We are thrilled to celebrate her successful defense of her master's thesis, titled "Comparing Associations between Sexual Function, Sexual Distress, and Psychological Symptoms in Women with and without Sexual Function Difficulties." 📚✨ Marta's ground-breaking research sheds light on the intricate connections between sexual function, distress, and psychological well-being in women using network analysis. 🥂 […]
🏆 MA student Erin Fitzpatrick presented "Bedtime battles and bedroom bliss: Infant temperament and sleep are linked with new parent couples' sexual and romantic relationships"! 🏆 Honorary SWell lab grad student Vasia Karasavva presented "Image-based sexual abuse as a form of gendered violence"!Woohoo Erin and Vasia, so well deserved!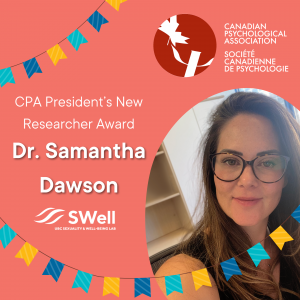 🌟 On June 24, 2023, our marvelous Lab Director, Dr. Samantha Dawson, will be honored with the esteemed Canadian Psychological Association's President's New Researcher Award for her compelling research on identifying risk and protective factors contributing to individuals' and couples' sexual health and well-being! 🌟🏆 🌟 This prestigious recognition is a testament to Dr. Dawson's […]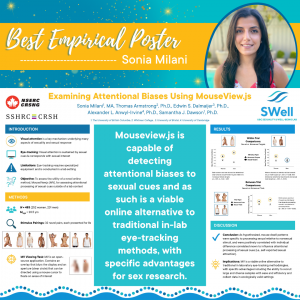 💫 First year MA student, Kiarah O'Kane, won best student poster for their work examining sexual myth endorsement and knowledge sharing via @misconsexions with @thephaselab. 💫 Former MA student, Sonia Milani, won best empirical poster for her MA research in the lab focused on validating a novel online alternative to eye tracking for sex research. 💫 Congrats Kiarah […]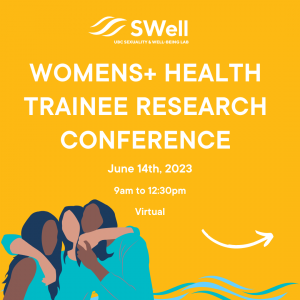 It was a multidisciplinary conference, providing an opportunity for trainees in women's+ health research to showcase their work. We had 3 lab members representing the SWell lab! ⏰ Erin found that parents' reports of greater difficulty caring for and soothing their child, as well as poorer infant sleep quality, were each linked with poorer sexual […]